Mon Jul 6th, 2015 – 10:35 PM EST
I was planning on doing another post after Imagine RIT, but I've been pretty busy. I was able to display off MEGA_MATRIX there along with a small fork of Blit where you can create animations then upload them to the device. It's was pretty popular with the kids. I'll be posting some of the creations soon enough.
Speaking of Blit I have been still working on it daily since the first release back in February. The big thing that I had to do was refactor the underlying monolithic Animation module into a more flexible and reusable system.
Some small stats:
3.5 months
+1,100 lines of code (exactly)
655 commits
51 tickets (felt like 151)
I've also done a few other things like add a shape tool, line tool, fill tool (you know, the basics), and a few icons. There are many other features that I want to add too like exporting to GIF and video files. I think I'll be able to get them done for P-2.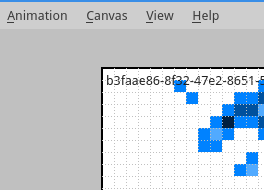 Tags: Computer Graphics, Status Update, Projects, Blit, Animation, MEGA_MATRIX